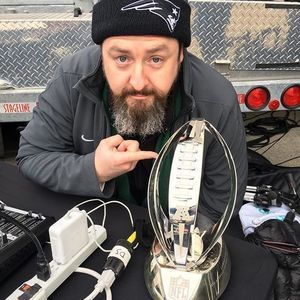 TJ Connelly
Special guest
TJ Connelly has been a guest on 2 episodes.
November 10th, 2021 | 44 mins 40 secs

We first spoke with TJ Connelly, who scores live sports events for the Boston Bruins and New England Patriots, last year, early in lockdown. He started a project called UncertainFM, which has now expanded to become a full-fledged streaming radio station. And The Next Track will be playing on UncertainFM starting with this episode.

May 29th, 2020 | 49 mins 22 secs

TJ Connelly is a sports DJ: he provides "scores" for live sporting events, such as baseball, football, and hockey games. Since the lockdown, he's been out of work, and he has been focusing his attention on Uncertain Times, a daily streaming radio show. We talk with him about what it means to score live sports, and how his streaming show is reconnecting him with real radio.